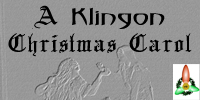 A Klingon Christmas Carol
November-December 2009:
Mixed Blood Theater, Minneapolis, MN
Playwrights: Christopher Kidder-Mostrom & Sasha Walloch
Translated by: Laura Thurston, Bill Hedrick, and Christopher Kidder-Mostrom
Additional Content and Translation by: Chris Lipscombe
Lyrics to qu'wI' by: Terrence Donnelly
Scrooge has no honor, nor any courage. Can three ghosts help him to become the true warrior he ought to be in time to save Tiny Tim from a horrible fate? Performed in the Original Klingon with English Supertitles, and narrative analysis from The Vulcan Institute of Cultural Anthropology.
The Dickens classic tale of ghosts and redemption adapted to reflect the Warrior Code of Honor and then translated into tlhIngan Hol (That's the Klingon Language).
A co-production of Commedia Beauregard and the IKV RakeHell of the Klingon Assault Group.
This was the third production of "A Klingon Christmas Carol". This was the first time that the show was put on as an extended run. 12 performances were done over three weeks. In preparation fo rthe show members of the cast conducted Klingon Raids on Minnesota Vikings football games and Minnesota Wild hockey games, as well as the University of Minnesota west bank campus and Nicollet Mall.
The show also featured a revised script that was editted by Chris Lipscombe, a member of the Klingon Language Institute, from Cincinnati, Ohio. Chris's edits made the show more precise in its original tongue.
Bruce Hyde, the actor who protrayed Lt. Kevin Riley in two episodes of Star Trek (The Original Series) in the 1960's joined the cast of A Klingon Christmas Carol for a quick snapshot after enjoying the production in a sold-out house on Monday, Dec. 7th, 2009. That evening was also the "Pay-With-Your-Can" night. Audience members brought in 800 pounds of food in exchange for tickets. The food was gathered to benefit Second Harvest Heartland and the hungry families of Minnesota.
Opening Night featured an epic cake made by Celebration Generation Cakes. It looked like a Klingon Bird of Prey! Everyone in the sell-out audience got to have their pictures taken with the cast and to feast upon the red velvet cake created by renowned cake artist Marie Porter.
The 2009 production was sponsored by The Source Comics and Games, Avalon Security, Sarah Richard (Edina Realty), and Metro Magazine.
Photos
The Cast & Crew
| | |
| --- | --- |
| Narrator | Kristin Foster |
| SQuja' (Scrooge) | Michael Ooms |
| QachIt (Bob Cratchit) | Michael Bruckmueller |
| vreD (Fred) | Brian Watson-Jones |
| marlI' (Jacob Marley) | George Richard |
| Kahless Past (Christmas Past) | Andrew Northrop |
| Qe'pa (a youth) | Brian Watson-Jones |
| Qob (a youth) | Lana Rosario |
| Young SQuja (Young Scrooge) | Neil Schneider |
| van (Fannie) | Kayla MaCarthy |
| veSIwIq (Fezziwig) | George Richard |
| Mrs. veSIwIq | Robin Johnson |
| wIlqInS (Dick Wilkins) | David Laux |
| bel (Belle) | Erin Haynes |
| Warrior 1 | Alan Cloud |
| Warrior 2 | Kayla McCarthy |
| Warrior 3 | David Laux |
| Orion Woman | Holly Luckes |
| Guest I | Andrew Northrop |
| Guest II | David Laux |
| Guest III | Alan Cloud |
| Kahless Present | Ben Chadwick |
| marja' (Mrs. Fred) | Laura Thurston |
| emlI' (Mrs. Cratchit) | Lana Rosario |
| marDa' (Martha Cratchit) | Kayla McCarthy |
| tImHom (Tiny Tim) | Elliot the Puppet (Operated by Neil Schneider) |
| Kahless Yet-To-Come | Laura Thurston |
| Merchant | Ben Chadwick |
| Seller | Erin Haynes |
| Boy | Neil Schneider |

Director: Sasha Walloch
Stage Manager: Becca Rodgers
Assistant Stage Managers: Kiseung Rhee, Lauren Wills
Fight Choreographer: Teresa Lhotka
Lighting Design: Ariel Pinkerton
Sound Design: Forest Godfrey
Costume Design: Erin Haynes
Puppet Costume Design: Christopher Kidder-Mostrom
Make-up Design: Ariel Pinkerton
Prosthetic Design: Bill Hedrick
Lightboard Operator: Wynter Gingery
Soundboard Operator: Kacie Galyon
Supertitles Operator: Abbey Vargo
Language Coach: Laura Thurston
Graphic Design: David Talarico, Christopher Kidder-Mostrom, Neil West
Reviews & Other Press
Minnesota PlayList -- A Great Space Christmas
Faraday's Cage is Where You Put Schrodinger's Cat -- Klingon Christmas Carol
The Trillionth Page -- Random Items: A Klingon Christmas Carol, Rumble Update, etc.
Minnesota Public Radio -- Art Hounds: Tetsuya Yamada, A Klingon Christmas Carol, Irvine Arditti
The A.V. Club (The Onion) -- Klingons, Golden Girls, and Sad Santas
Current Geek -- Episode 5: "A Klingon Christmas Carol"
Klingon Language Institute Listserv -- A review in tlhIngan Hol (translated into English, as well)
io9.com -- Celebrate the Holidays with Starfleet Cookies, A Klingon Christmas, and Abrams-Inspired Trek Novels
Celebration Generation -- The Most Awesome Thing in the History of Awesomeness
Saint Paul Pioneer Press -- 'Star Trek' Twist on 'Christmas Carol' Actually Works
MinnPost -- 'Christmas Carol' the Same No Matter What the Language (in this case, Klingon)
TwinCities.com -- Weekend Playlist: Nov. 26-Dec. 2 Podcast
Spacecast -- Scrooge Has No Honour
Minnesota Monthly -- What to Do With the Relatives Over the Weekend
MinnPost -- Get Your Geek On with 'A Klingon Christmas Carol
boingboing.net -- Klingon Christmas Carol
TC Theater Connection -- #95 Michael Ooms and Sasha Walloch
Minnesota Public Radio -- State of the Arts: Adopt a Klingon for Christmas
Tonic.com -- Adopt a Klingon

A breezy, fun evening for the committed Trek fan and those just curious about seeing a familiar story in a different context.
Ed Huyck, MinnPost.com
Click Here for More
Part of the fun of watching Klingons may just be the sheer joi de vivre of honest bellicosity for a change.
Tom Poole, Minnesota PlayList
Click Here for More